Giulio Malavolta receives Heinz Maier-Leibnitz Prize
Research group leader is honored with the prize of the German Research Foundation
Seven female and three male researchers were selected to receive the Heinz Maier-Leibnitz Prize of the German Research Foundation (Deutsche Forschungsgemeinschaft, DFG): One of them is Giulio Malavolta, head of the Cryptographic Systems group at Max Planck Institute for Security and Privacy (MPI-SP), Bochum.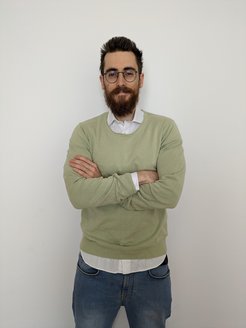 About Giulio Malavolta's Research
Security and privacy are fundamental civil rights in democratic societies, so they are key requirements of modern IT systems, too. Giulio Malavolta's work has already had a lasting impact on the field of cryptography, which deals with the scientific foundations of information security. He devotes himself to three highly topical, technically demanding and dynamic areas: firstly, he researches into privacy-preserving techniques that are also used in blockchains and cryptocurrencies; secondly, he develops encryption methods that make it possible to calculate functions on encrypted data with a high level of efficiency. Finally, Malavolta is working on digital signatures that can also withstand attacks with quantum computers. In all these areas, he makes theoretically sound contributions while at the same time building bridges to practical applications.
Twice successful
In fact, the awarding of the Heinz Maier-Leibnitz Prize gives the Max Planck Society even two reasons to celebrate: In addition to Giulio Malavolta, Bonnie J. Murphy, Research Group Leader at the Max Planck Institute of Biophysics, Frankfurt/Main, was also among the honorees. In addition to the two, the following researchers were also honored:
Isabelle Dolezalek, Art History, University of Greifswald
Elina Fuchs, Particle and Atomic Physics, Leibnitz University Hannover and Physikalisch-Technische Bundesanstalt, Braunschweig.
Michael Homberg, Modern History, Leibniz Centre for Contemporary History, Potsdam
Leif Ludwig, Functional Genome Research, Berlin Institute of Health and Max Delbrück Center for Molecular Medicine, Berlin
Sabine Richert, Physical Chemistry, University of Freiburg
Clarissa Schönecker, Fluid Mechanics, RPTU Kaiserslautern-Landau
Vera Traub, Discrete Mathematics, University of Bonn
Marcella Woud, Clinical Psychology, University of Bochum
About the Heinz Maier-Leibnitz Prize
Since 1977, the Heinz Maier-Leibnitz Prize has been awarded annually to outstanding researchers who are at an early stage in their scientific career. The award seeks to support and encourage the prizewinners, who do not yet hold a tenured professorship, to continue to pursue their academic career. It is not only their dissertation that is recognised, but in particular whether they have subsequently developed an independent research profile and have produced research results that have enriched their subject-specialist community, giving rise to the expectation that they will be capable of top-level research achievements in the future.
Established in 1980, the prize is named after nuclear physicist and former DFG President Heinz Maier-Leibnitz, during whose term of office (1974-1979) it was first awarded. A total of 171 researchers across all disciplines were nominated this year. The winners were selected by the committee responsible chaired by DFG Vice President and biochemist Professor Dr. Peter H. Seeberger.
DFG/MPI-SP