Why join us?
Becoming part of MPI-SP Bochum is a great opportunity – let us show you why
 
There are a great number of reasons why you should consider joining us at the Max Planck Institute for Security and Privacy (MPI-SP). Here you can find an overview of what you can expect when you decide to apply for a position at our institute in Bochum.
Max Planck Institute for Security and Privacy
The Max Planck Institute for Security and Privacy was established in Bochum in 2019 with Gilles Barthe and Christof Paar as its founding directors. For now, the institute is located on the campus of the Ruhr-University Bochum (RUB), but will eventually move to its own new building on Mark 51°7, the old production site of former car manufacturer Opel. MPI-SP's mission is to conduct cutting-edge research in all aspects of security and privacy: the diverse aspects of IT security and data protection are being examined both from a technical perspective as well as from an interdisciplinary one. This is why next to computer scientists, cryptographers, and mathematicians, for example, it's also experts from fields such as the social sciences, psychology, and law who are called to the institute, that way bringing together people from a wide variety of backgrounds. On top of that, MPI-SP is also the training ground for the next generation of scientific leaders in security and privacy, offering a number of attractive opportunities for young researchers on different levels of their career.
As a young and dynamic research institute in the start-up phase, MPI-SP offers an independent, varied working environment, in which people are given the opportunity to actively participate within the community and help drive the development of the institute forward. Particularly appreciated is the open and collegial working atmosphere with communication at eye level, flat hierarchies, and strong company among colleagues. At MPI-SP, it is our daily mission to work together in order to foster a culture as well as to provide the means to make each person at the institute feel comfortable and supported in their personal and professional development.
Max Planck Society
The Max Planck Society (Max-Planck-Gesellschaft, MPG) is Germany's leading non-university research organisation in the field of basic research. In 2023, 85 Max Planck Institutes (MPIs), located both nationally and internationally, belong to the society. Anyone who wants to conduct research in the innovative and international environment of a globally recognised research institution is in good hands here. The central task of the MPIs is to provide in-depth training for young, exceptional scientists: At the institutes, you will learn how to perform cutting-edge research under the supervision of top senior scientists, benefit from the international network of your renowned mentors, and learn and teach in an inspirational, interdisciplinary, and intercultural environment. The MPIs are the nucleus of research in their respective scientific fields, and those who decide to spend one of the crucial stages of their scientific or professional career at an MPI are offered an open, stimulating, and international working atmosphere.
The following opportunities are available at MPI-SP:
Metropolis of knowledge: The Ruhr Area
The Ruhr area is a region that has successfully mastered the structural change from a former coal mining area to a metropolis of knowledge: Today, the Ruhr region is one of the densest education and research landscapes in Germany, plays a key role in driving scientific progress forward, and offers optimal working conditions to students and researchers alike. The city of cities' recipe for success is as simple as it sounds: collaboration. In the Ruhr region, it was recognised early on that pulling together is essential, if structural change is to be achieved. The Universitätsallianz Ruhr of the Ruhr University Bochum (RUB), TU Dortmund, and the University of Duisburg-Essen, for example, is dedicated to the goal of "Studying, researching, and living – better together", and within Bochum the UniverCity network brings together the city of Bochum, seven local universities and three non-university research institutions, as well as other partners to collaborate on various topics in a demand-oriented manner.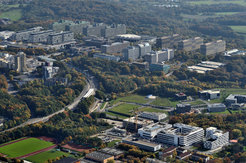 One of the world's top locations for IT security: Bochum
Within the Ruhr valley lies the city of science, Bochum. With its seven universities and three non-university research institutions, the city offers an innovative working environment and fertile ground for excellent education and research. Initiatives such as Eurobits, an umbrella brand that combines research, industry, start-ups, and further education in the field of IT security, the UniverCity network as well as cooperation with local companies facilitate an intensive transfer of knowledge between science, industry, and the city's population. The most important sector here is IT security, as Bochum is the Ruhr area's ecosystem for security and data protection: as early as 2002, the Horst Görtz Institute for IT Security (HGI) was founded at RUB, whose constant growth eventually led to the founding of the Faculty of Computer Science in 2021, and since 2019, the Cluster of Excellence "CASA: Cyber Security in the Age of Large-Scale Adversaries" has also been located here. MPI-SP maintains close contacts with RUB; all of the institute's Faculty members are Principal Investigators (PIs) at CASA and our Ph.D. students receive their doctoral degrees through RUB. In addition to training and securing the next generation of IT security experts and scientists, great value is placed on networking: The scientific institutions not only cooperate with each other, but also with the industry to ensure a transfer of both knowledge and technology, a fact, which is reflected in Bochum's lively start-up scene.
Living in Bochum
Bochum is located in the middle of the Ruhr valley, a unique, very green and intercultural metropolitan region in western Germany. From a former coal mining area to a place of science, the city is now home to a large number of universities and research institutions, especially in the field of IT security, and it is this richness that gives rise to diverse and extraordinary collaborations.
But Bochum is also a place worth living in beyond that and offers all the amenities of a medium-sized German city: There is a wide range of cultural and sporting activities (including a premier league football team!), a good public transport network, affordable housing and plenty of green space, both in the city and around it. And if you do want to get away from it all, the rest of Europe is not far away, with the Netherlands and Belgium being direct neighbouring countries, and several airports close by.